Give Your Child Limitless Fun With POW! Kids Birthday Parties!
At POW! Gym, we offer active, entertaining and creative options for your child's birthday!
Whether your little one is a superhero, ninja warrior, or athlete, POW! Kids will offer a birthday party they'll never forget. Our birthday parties are lead by instructors with extensive experience in a variety of youth-specific programming. All parties are 2 hours, curriculum-based, and full of activities. These birthdays are not open play, which means our instructor will be leading the party from start to finish, keeping the kids engaged, and guiding them through their experience!
We're happy to check dates for you! Contact Katalin at katalin@powkickboxing.com or call us at (312) 829-7699.
... or simply fill out the short form on your screen for more info!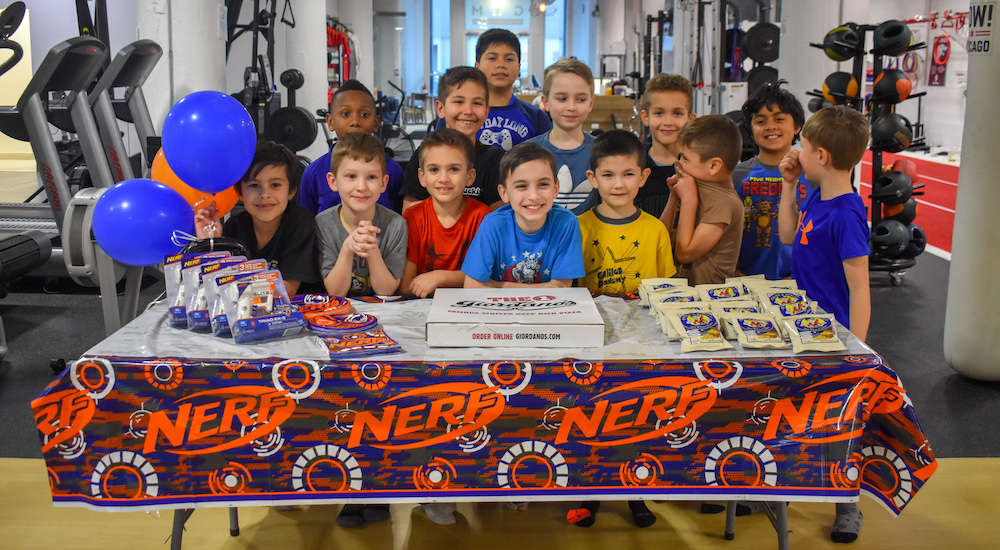 What's Included In Our Birthday Parties?
We're proud to offer the most exciting, active, high-energy birthday parties in West Loop! Our base birthday party starts at $395.00 and includes 15 kids with 2 hours of memorable fun.
Here are the birthday party basics:
80-90 minutes

of programmed, instructor-led athletic activities including relays, obstacles courses, and speed & agility games.
25-30 minutes allocated for food and cake.
We ask that you only arrive 20 minutes prior to the party.
POW! provides tables and folding chairs to be used for food, gift bags, and beverages.
We will handle the set-up and the clean-up, so you can enjoy the party stress-free.
We DO NOT include food, beverages, balloons, gift bags, cake, deserts or utensils.
You may bring food in or have food delivered.
POW! offers free parking behind the building. This lot is shared with the Extra Storage company.
After the 15-child limit is reached, each additional youth party guest is $20.
We are happy to adapt aspects of our programming to your child's favorite show, character or theme.
Younger & older siblings are welcome, but our programming will be catered to the gross motor skills and age of the birthday party child. Your birthday child is POW!'s priority!
What Exciting Themes Do Our Birthday Parties Offer?
Athletic Play / Active Games (4-9 yrs)
Superhero Training (4-7 yrs)
Ninja Training (4-9 yrs)
Jedi Training (4-8 yrs)
Pokemon (4-7 yrs)
Premium Themes are an additional $50.00:
Nerf Skills and Drills (only for 8+ years old)
Minute to Win It Games (only for 9+ years old)
Sports Combine (only for 10+ years old)
Customized Themes (any age)
Available Times:
Saturdays at 3:30 pm to 5:30 pm
Saturdays at 6:30 pm to 8:30 pm
Sundays at 12:30 pm to 2:30 pm
Sundays at 3:30 pm to 5:30 pm
Have Questions? Check Out Our FAQs Page

HERE
Delight Your Child With A POW! Kids Birthday!
We're happy to answer any questions you have or to help create a customized birthday theme that your child will remember for years to come. Children from around West Loop have enjoyed unique, high-energy birthday parties with us for nearly twenty years... and your child could be next!