Get Your Child Started On Lasting Life Skills!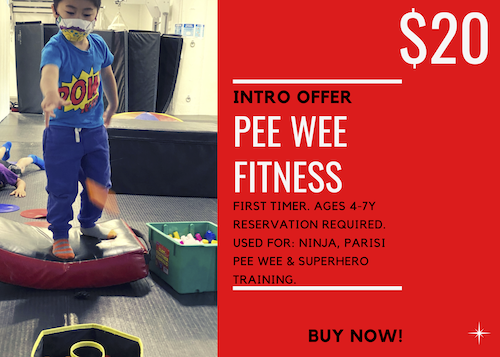 Click Here To Sign Up!
... or simply fill out the short form on your screen for more info!
POW! Gym is proud to offer fun and exciting Pee Wee classes for kids 4-7 years old! Our innovative training system helps kids build their confidence, learn to listen to instruction, develop their gross motor skills and respect teachers. They'll also get started on establishing lifelong habits of physical health and wellness! We welcome kids from around Chicago to come and discover the excitement of running, jumping, Agility, and more!
Just fill out the short form below to get started!
Pee Wee Classes Are Fun & Educational!
Not only will your child learn to love staying active, but they'll gain real and lasting benefits from our Pee Wee classes! From listening skills to learning teamwork and respect, these awesome classes will expose your child to a diverse variety of experiences here at POW! Gym.
They'll get to take part in Superhero Training, Ninja Warrior classes, athletic fundamentals, core strength and conditioning exercises that promote strength and agility. We are proud to be the hub for youth and adult fitness in West Loop, Wicker Park, and Hyde Park -- join us today and see for yourself how our classes can help kids thrive!
Our Pee Wee classes will teach your child to:
Learn how to follow instructions
Respect peers and teachers
Develop gross motor skills
Meet new friends & learn new skills
From their very first day, your child will get real physical and mental benefits from our Pee Wee classes. Join us here in West Loop and see why parents all over Chicago choose POW! for themselves as well as their kids!
Get Your Child Started at POW! Gym Today!
Our team at POW! Gym welcomes kids of all ages, experience levels, and backgrounds into our family. Whether it's your child's first time at a gym or if they've always loved being active, we'll help them gain real physical and emotional benefits. From listening skills to promoting confidence, our Pee Wee classes are an incredible choice for any child aged 4-7!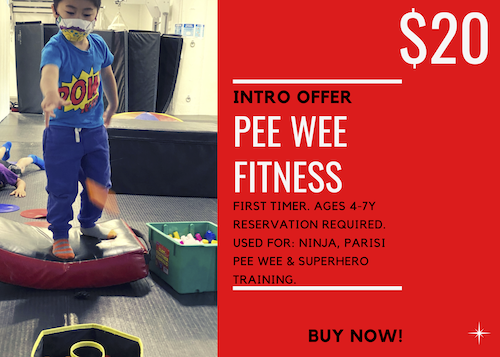 Click Here To Sign Up!
... or simply fill out the short form on your screen for more info!