Personal Training, Strength & Conditioning, and More!

Our adult strength and fitness classes at POW! take advantage of a diverse blend of training exercises to create sustainable, long-lasting results. If you're new to fitness or need a little extra guidance, our professionally-certified personal trainers will help tailor effective workout regimens to get you slimmed down, toned up, and feeling good about your fitness!
Just fill out the short form on your screen for more info!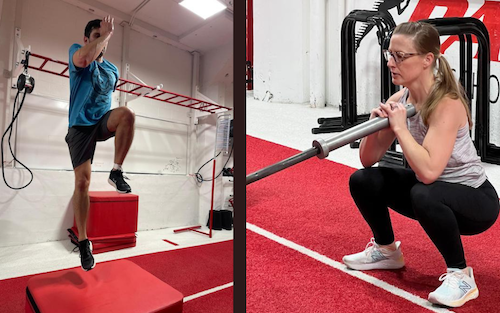 Our Fitness Classes Offer A Dynamic Total-Body Workout
We're helping residents of the West Loop, Hyde Park, and Wicker Park areas create a unique and effective fitness routine that incorporates diverse and dynamic workouts. POW! GYM classes are designed for a person that wants to live an active life. Owner of POW! GYM Chicago, Katalin Rodriguez Ogren believes that everyone should train to live and perform their life better. "Achieving fitness is easy if you are training for function," says Katalin. Classes at POW! GYM Chicago in the West Loop area incorporates sleds, barbells, kettlebells, dumbbells, medicine balls, and more into their training formats. Their West Loop personal trainers are great at accommodating adults with previous injuries and tailoring every workout experience to the client's capabilities.
With our fitness classes, you'll be able to:
Torch hundreds of calories per session
Create a sustainable fitness strategy for long-term success
Engage with a supportive community
Build self-confidence, self-esteem, and lifelong fitness
Or Sign Up For Personal Training To Individualize Your Fitness
Personal Training at POW! allows you to tailor each and every workout to push you closer to your goals. We're proud to offer the Chicagoans of West Loop a chance to enjoy a truly unique private training system that focuses on strength, cardio, and weight loss. Choose from four professional trainers who can work with you to optimize your results. Whether it's sports-performance drills, total-body circuit training, or taking on the fundamentals of Muay Thai, we'll help you genuinely engage with your fitness. You'll meet, achieve, and exceed your goals -- that's the POW! guarantee.
Try Personal Training with POW! and gain access to:
A professionally-certified trainer who will curate each of your workouts
One-on-one training strategies tailored specifically for your success
Guidance on form & technique so you can stay injury-free
Important nutritional information so you can get the most out of each session
Get REAL RESULTS With Fitness Classes at POW!
Whether your goal is muscle gain or weight loss, our fitness classes and personal training programs at POW! are guaranteed to help you achieve your goals. Each strength and fitness class offered at POW! GYM is different. The Staff collaborates each week to create a cohesive training plan for the week. This effort mitigates injuries and maximizes the time their members give to training. By equipping residents of West Loop, Hyde Park, and Wicker Park with every tool necessary for success, POW! is on the ground floor of engineering a healthier, fitter, and happier Chicago.
Simply fill out the short form on your screen for more info or click the button below to sign up for a trial class!
Sign Up For An Intro Class