-Chicago Summer Camps 2024!-
POW! summer camps are active, structured, and fun! Many of them are theme-based and age/grade specific. Weather permitting, camps will also include plenty of outdoor time. By offering a variety of programming that reflects POW!'s signature values, we're proud to create lasting memories for our campers and offer children all across the West Loop, Wicker Park, Pilsen, West Town, and beyond a place to stay active during the summer
POW! summer camps are small in size. Our larger summer camps only allow 20 kids in a group, to maintain structure. Campers participate in several training classes each day regardless of the theme. Camp days will include a combination of board games, dance parties, art, scavenger hunts, and more.
The goal of our summer camps is to build the athletic skills of each and every child. We will play a wide array of fitness games, teach kids about fitness and healthy living concepts, and more! Please make sure your kids come appropriately dressed! Camp days include art and reading sessions to cultivate minds as well as bodies. Our summer camp is one flat price. Drop-offs are at 8 am and pickups are at 4 pm. Take a look at this year's schedule. Make sure you scroll down to view early bird pricing.
POW! Gym Chicago Summer Camp Descriptions
---
2024 Summer Camp Dates
Email us to reserve now: katalin@powkickboxing.com
More Info:
---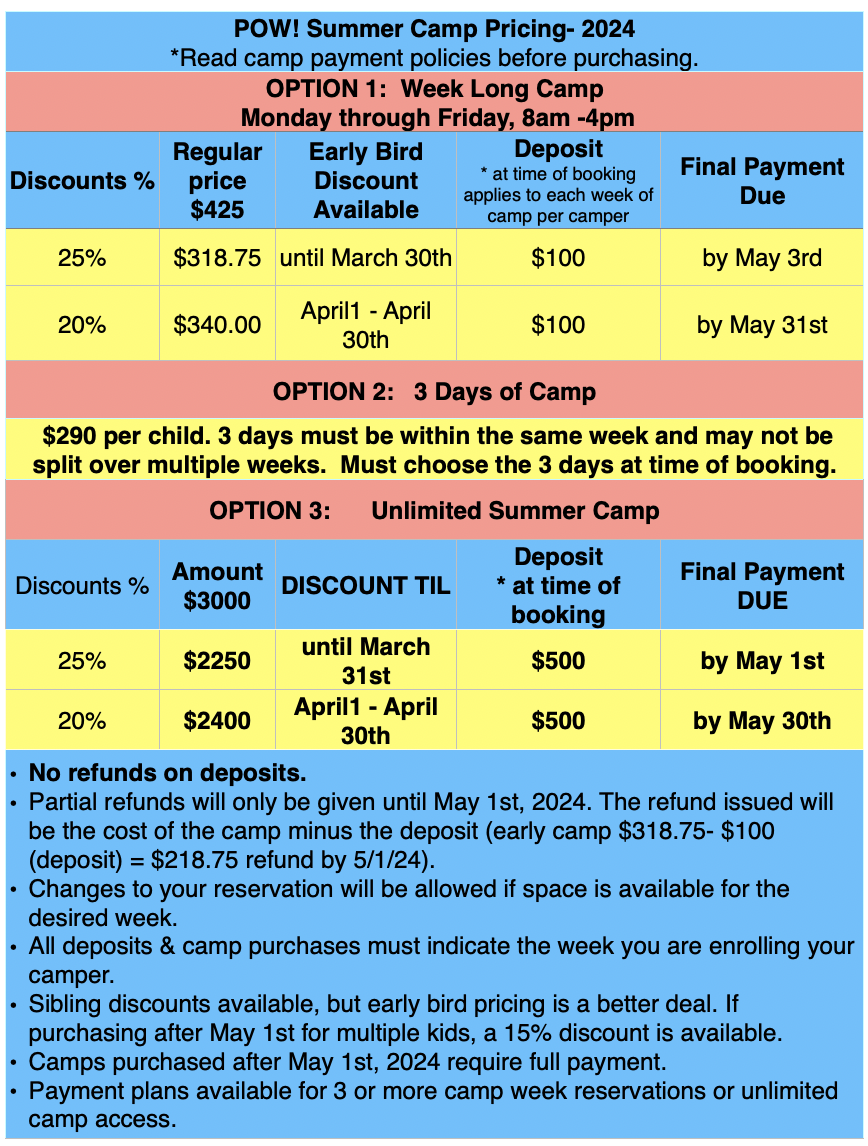 Email us to reserve now: katalin@powkickboxing.com
Teen Summer Camp - Growing up in Chicago

To understand Chicago, a person must experience it. Even native Chicagoans sometimes need to step back to understand their home. At POW!, we pride ourselves on our hands-on, structured, active curricula. POW! takes this approach with immersive learning, exploring the streets of Chicago.

This camp is best for teens who love Chicago and want to know more about it through actually living it. Rain or shine, our teens will trample the city and use the CTA for scavenger hunts in classic Chicago locales, to gaze at world-class art, dialog about pizza comparisons, and even dive into the grid & grit system that makes Chicago the greatest city in the world. Campers will pound the pavement to navigate within various neighborhoods.

Owner, Katalin Rodriguez Ogren, a native Chicagoan, who grew up on Chicago Ave and Wells with her brothers, created this camp for the independent, curious, and active teenager. Campers will experience what it means to be a city kid. This week-long summer camp will begin at POW! Gym in the West Loop where they will start their day. Kids will then be led through the city exploring various topics like art, architecture, history, sports, culture, and food. Teens will navigate the city while using public transportation, led by Lead Instructor Anya Zamiar, a seasoned instructor and CPS 8th-grade teacher. There is an additional $50 charge for field trips and entrance fees. This will be collected 2 weeks before the camp date starts. The camp agenda is different than in past years, with some key overlapping topics and adventures.

Week of July 24th: The Light & Dark Side of Chicago

No matter where you travel in the world, Chicago has a reputation for its spectacular art and architecture, but also its nefarious past. Oddly, Chicago is infamous for its dark side including its seedy underbelly of corruption that still haunts its legacy today. In the early 1900s, Chicago became the fastest-growing city in the world, growing from 300,000 in population to 1.7 million. Teens will explore not only the amazing light side of our fine city's growth but its dark side. They will learn about the history of organized crime that brought our Windy City's renowned attention, but also its haunted buildings whose ghosts to this day still make themselves known to many travelers and residents. This week teens will travel through parts of the city exploring the beauty above the payment which is defined by both old and new school architecture. Then travel below the payment to discover Lower Wacker Drive, the many confirmed haunted buildings and where the infamous Al Capone built part of his empire.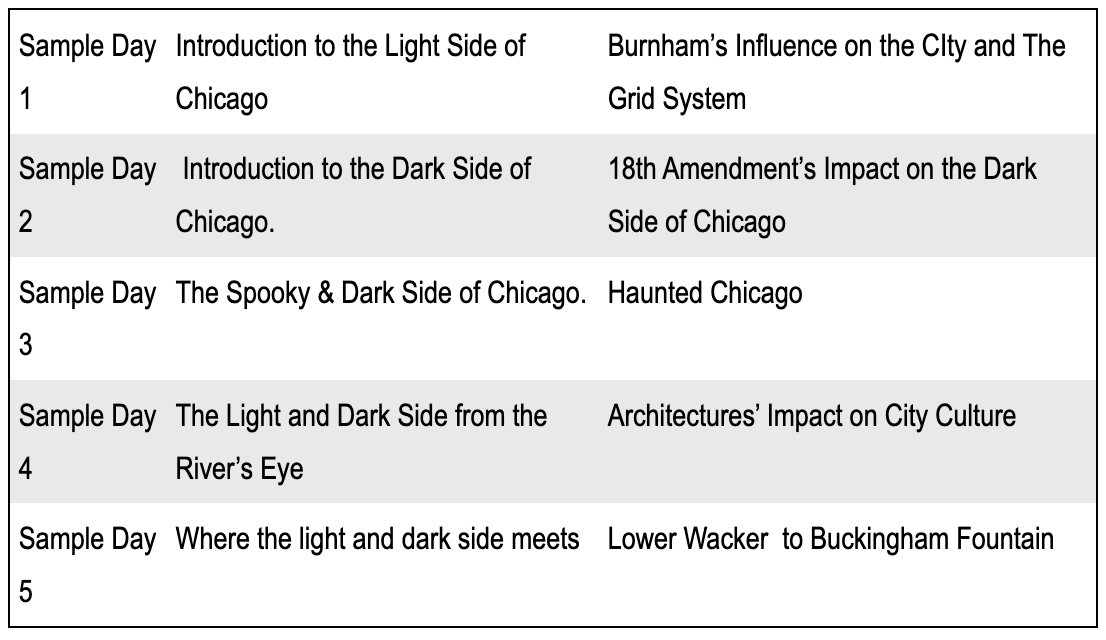 Email us to reserve now: katalin@powkickboxing.com
---